Why is the DMCA important to you?
As part of the U.S. copyright law, the DMCA addresses the rights and obligations of owners of copyrighted material who believe their rights under U.S. copyright law have been infringed, particularly but not limited to, on the Internet. DMCA also addresses the rights and obligations of OSP / ISP (Internet Service Providers) on whose servers or networks the infringing material may be found.
This law clearly provides a framework, called the DMCA Takedown (Section 512 (c)(3)), for a process between two parties for the request and removal of copied content found online. For more information you can visit: www.copyright.gov/legislation/dmca.pdf.
Most websites, ISP's, OSP's, hosting companies have adopted the DMCA Takedown process to handle requests for the removal of illegally hosted content on websites within their control. If you think you can use the DMCA takedown process to get your content removed.
If you want to learn more about DMCA Takedowns please see our other FAQ on this specific issue here What is a DMCA Takedown.
What do I need to use DMCA to get my stolen content down from a website?
Three main pieces of information are needed to get started filing a DMCA Takedown Notice:
1. Infringing URL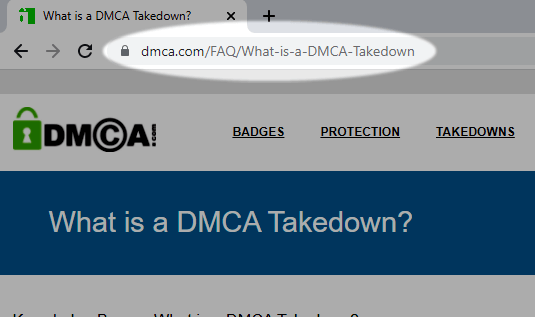 Where on the internet or platform is your stolen content located? What is the link that you want the content removed from? Be sure to provide the URL or website/webpage link of the content you want removed. If the stolen content is an image or video located on a website provide the direct link of the content contained in the site. Copy and paste the infringing text, or provide the URL of the infringing image if required.
2. Source URL
Where was your content located when it was stolen? Was it on your social media profile? Was it from your own website? Provide the exact URL where it was stolen from, even if the content has already been removed from its original location. The original URL is still valuable to the notice. If it was not online you can reference cell phone, computer, or camera etc. If it was online such as a website or cloud storage provide the link to the exact page it was stolen from. You can upload the original content to a cloud storage service and provide that URL with an explanation of where it was originally stolen from.
An example link would look like: https://share.icloud.com/photos/my_original_content
3. Description of Ownership
What is the content owner's name and how was the content stolen? How is this content yours? How do you own it? Did you create it, buy it, copyright it? Who is claiming ownership of the content? Who is authorized to file the DMCA Takedown? When did you create the content and when was the content stolen?
An example description would sound like: "My photo I took of myself on my camera was stolen from my Google Drive and was posted on this website without my knowledge and I would like it removed."
If you are unsure how to collect the information for these three categories the Professional Takedown Team at DMCA.com can help with the answers. Click here to ask us about your situation.